Welcome to your dog's home away from home!
Dog Daycare Okemos, MI
|

Dog Gone Fun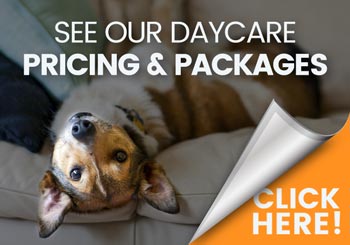 At Dog Gone Fun, our dog trainers in Okemos MI consist of responsible individuals that care for every puppy and dog as well as their owners. We are an Okemos doggy daycare that strives to create the perfect "home away from home" atmosphere for your dog. Our new buildings feature the latest puppy products and technology that improve both the dog and owner experience.
Our Okemos puppy trainers at Dog Gone Fun customize our play groups, dog boarding, and programs to your dog's age, style of play and size. Did you recently get a new puppy? At Dog Gone Fun, our Okemos puppy daycare also provide a special "extension of home" puppy program to maximize the opportunity for ideal puppy socialization and early puppy training.
At Dog Gone Fun, our Okemos dog trainers provide the following services:
Dog Training in Okemos, MI
Puppy training in Okemos is a good idea for a dog of any age, whether you are building on good behaviors or correcting those behaviors that "aren't so good". It is also just a fun way for you and your dog to bond. The earlier you introduce a dog to the behaviors you are looking for the easier it is to train and the more likely it is to "stick". This is especially true for puppies between 8 and 16 weeks old.
Dog Daycare in Okemos, MI
Doggy daycare provides dogs of all ages, sizes, and dog breeds with a fun, safe, and stimulating off-leash environment where they can hang out and play all day while owners work, run errands, or shop.
Dog Boarding in Okemos, MI
Dog Gone Fun provides all of Okemos, MI with overnight dog boarding services. Overnight guests enjoy a full day of play and are tucked away each night in the individual cozy suites where they sleep on Kuranda cots with fleece blankets. That means showering him with an endless amount of affection and care from our well-trained dog trainers who love dogs. Your dog will have sweet dreams in our climate-controlled state of the art facility.
Please call (517) 657-4300 for more information about all of our dog training and boarding services or stop into our Okemos, MI facility for more information.