Welcome to boarding as it should be...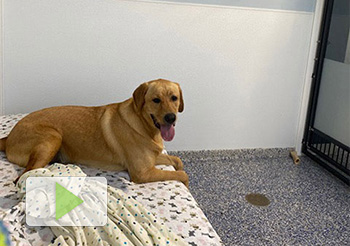 When you have to travel or be away from home, the last thing you want to worry about is your best friend.
It is time to think differently about where you leave your dog while you are away.
You want peace of mind that they are enjoying their own "stay-cation" in a safe, clean, fun and stress-free environment.
After all, when you're gone, it's hard on them too. Why not bring them someplace that makes home seem not so far away. Our unique boarding bedrooms and amenities, do just that.
Dog Gone Fun is very proud to be a cage-free boarding facility. Unlike most overnight facilities your loved one will never spend the night inside of a cage while they stay with us.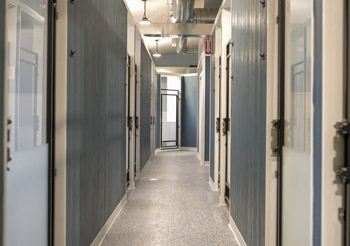 We currently offer two different bedroom boarding options so after a day of playing with his buddies, your baby can dine in his room and then relax on his very own bed, snuggle down into his blankets and pillow, falling asleep watching his favorite television show or listening to relaxing music... just like home.
Premier Bedrooms Include:
Large individual bedrooms (…like the actual size in your home)
A twin size bed with bedding
Climate controlled for comfort
Natural lighting
Daily room cleaning
In suite dining
TV's (playing shows or soft, relaxing music) 
Specialized air filtration system
Medication administration
Professional care 24/7 hours a day
Daily playtime at daycare (or with our staff if non-social)
Daily wellness checks
Petite Suites include all premier bedroom amenities except:
Smaller room size (6' x 8')
Soft, relaxing music instead of TV
Large Kuranda cots and fleece blanket bedding
Goodnight hugs and rubs
In addition to all the above amenities, parents can choose from a variety of add-ons for extra pampering and attention. You can even schedule a Barktime session so he can tell you how much fun he is having.
While your pet is with us, he will enjoy daily exercising and socializing with our trained professionals in our supervised indoor/outdoor play areas.
Our caring staff can administer any medications that your dog requires, while providing special care to our senior members and puppies.
Medicines in original containers with instructions, blankets, favorite bed, old t-shirts or socks that smell like home, favorite chew toys that don't pose a choking threat.
Food: meals proportioned & marked with name in Ziploc baggies
Rates
Rates include a full day of play in a doggy daycare playgroup Monday through Saturday (and half day on Sunday), which is a $36.00 daily value. If your dog isn't social, ask about our alternative programs.
Receive a complimentary bath with a 7+ night stay.
*Not available during holiday stay-cations.
| | | |
| --- | --- | --- |
| | Premier Boarding Bedrooms | Petite Suites |
| 1 night | $54.50 per night | $49.50 per night |
| 2-7 nights | $53 per night | $48 per night |
| 8+ nights | $51.50 per night | $46.50 per night |
Stay-and-Play Pre-Buy Packages
| | | |
| --- | --- | --- |
| | Premier Boarding Bedrooms | Petite Suites |
| 15 nights | $757.50 ($50.50 per night) | $682.50 ($45.50 per night) |
| 20 nights | $990 ($49.50 per night) | $890 ($44.50 per night) |
| 30 nights | $1,440 ($48.00 per night) | $1,290 ($43.00 per night) |
*Boarding discount pre-buy packages expire 1 year from date purchased
All boarding packages are non-refundable..
Want to board 2 or more dogs at once?
20% discount off the second dog if staying in the same suite.
Can't stand the thought of not seeing how your best friend is doing while you are away? Dog Gone Fun has you covered. Click the button below to see how your pup is doing.
Check-in / Check-out
Monday through Friday 7 am – 6:30 pm
Saturday 8 am – 10:30 am & 4 pm - 6:30 (drop off/pick up only)
Sunday 8 am - 10:30 am & 4 pm - 6:30 (drop off/pick up only)
Holidays 8 am – 10 am & 4:30 pm – 6:30 pm
*Our front desk is not open for check-in/out on Thanksgiving, Christmas Day, or Easter Sunday.
Running Late For Pick Up?
If you cannot make it in to pick up your dog within the 24-hr time period on his last day, your dog is welcome to spend extra time with us. You will be charged applicable rates* according to the length of the additional time here.
*Please keep this in mind when choosing a time to drop off your dog.
1/4 hr – 5 hrs — cost of half day of daycare
5 hrs – 12 hrs — cost of full day of daycare
More than 12 hrs — cost of 1 night of boarding
Holiday Stay
A 2 – night minimum stay is required at holidays to better accommodate all of our furry guests.
Holiday reservations require a 50% deposit due two weeks before the scheduled start of your stay with rest of payment due on drop off.
If we do not have your deposit for your reservation within two weeks of your reservation, it may be cancelled.
7 days notice from the scheduled start of your stay for reservation cancellations for holidays is required to receive a full refund.
Cancellations within the 7 day period prior to a holiday reservation and "not-shows" forfeit their 50% deposit.

Please note "Spring Break", typically the first full week in April, is considered a holiday period for dog boarding.

A holiday period is considered 2 days before and 2 days after the actual holiday.
Overnight stays require your dog is current on vaccinations including rabies, distemper/parvo, and bordetella. We also recommend the influenza vaccine but do not require it at this time. Our dogs share germs! Dogs must also be on a monthly heart worm prevention and have annual negative fecal test. No Worms Allowed.
If you have not stayed with us before:
Complete and submit the Dog and Owner Profile and Owner Agreement forms, which give us an initial peek at your dog's behavior and any potential issues that we may want to discuss with you in greater detail.
We will contact you to set up a reservation for an evaluation day. Here, the staff will spend some time with your dog before introducing him to one or two other dogs. If positive behavior is observed, we'll continue introducing him to more dogs before taking him into the playroom. Depending on your dog's personality, this process can take longer with some dogs than others. We ask that dogs stay a minimum of 5 hours on this day. (Normal doggy daycare rates apply for this visit.)
You must also provide proof of current vaccines and fecal test from your veterinarian to us prior to your evaluation day. You can submit the forms on our website.