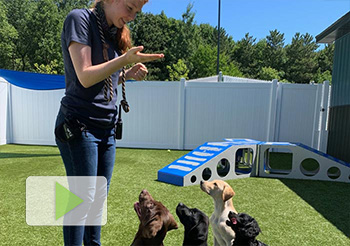 In search of dog training? If so, we ve got you covered. Training is a good idea for a dog of any age, whether you are building on good behaviors or correcting those behaviors that "aren't so good".
It is also just a fun way for you and your dog to bond. The earlier you introduce a dog to the behaviors you are looking for the easier it is to train and the more likely it is to "stick".
This is especially true for puppies. The critical socialization and basic training window for puppies between 8 and 16 weeks of age. The more you can introduce your puppy to positive experiences in this window the more they will be comfortable with their environment and behaviors throughout their life.
Dog Gone Fun certified trainers offer several positive training options for your canine friends. We believe in building powerful and wonderful relationships between humans and their canine companions.
Group Classes
Basic 1 Obedience
($165, nonrefundable, due at time of enrollment) is a 6-week course and includes a DGF treat training bag and starter goodies. The class includes working on sit, down, stay, loose leash walking, "leave-it", a touch command and the beginning steps of mat targeting. Your dog also gets great socialization exposure during structure play time and we answer some added student requests (like maybe potty training tips ☺). THE PERFECT CLASS FOR PUPPIES!
If your puppy is less than one year old, this class includes everything you need to qualify for the AKC S.T.A.R. Puppy certification. Click this link to learn more about the AKC S.T.A.R. Puppy certification. Please note owners and puppies must attend all 6 classes to qualify for the certification test. Make up sessions are not available, so check those calendars when selecting your Obedience 1 class. If you decide to pursue AKC S.T.A.R. Puppy certification there will be an additional $10 filing fee (due at the 6th class).
Basic 2 Obedience
($165, nonrefundable, due at time of enrollment) is a 6-week course that adds distractions, distance, and duration to basic manners learned in Basic 1 Obedience. For example, we complete mat/place targeting and continue to work on enhanced loose leash walking techniques. We also introduce new training concepts focused on patient door manners, reducing jumping, accepting strangers, reactions to other dogs and distractions, supervised separation, and some added fun learning to navigate a basic agility course (on and off leash). Successfully completing this course will provide you with everything you need to qualify for the
. Certification testing will need to be scheduled separately (see below for current dates). We suggest attendees take Basic 1 Obedience as a prerequisite, but it is not required.
AKC Canine Good Citizen Certification Testing:
($25) is a great way to demonstrate your pup has mastered the 10 requirements to be considered a good citizen. Please call (517) 657-4300 to schedule your testing date when you and your pup are ready.
Individual Training Options:
ONE-ON-ONE DOG TRAINING with the trainer and you at Dog Gone Fun!
$65 per hour
$360 for a package of 6, 1-hour sessions
STAY AND TRAIN is a program that works with doggie daycare or overnight boarding. It provides a structured training program that is customized to owner s needs and ultimate goals for their dog (ie. basic manners to socialization). Pricing is $30 per 30 minutes with the trainer. Customized programs can also be developed. Please call (517) 657-4300 or stop in for more information.