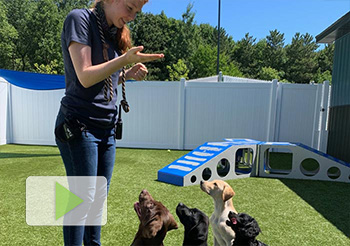 In search of dog training? If so, we've got you covered. Training is a good idea for a dog of any age, whether you are building on good behaviors or correcting those behaviors that "aren't so good".
It is also just a fun way for you and your dog to bond. The earlier you introduce a dog to the behaviors you are looking for the easier it is to train and the more likely it is to "stick".
This is especially true for puppies. The critical socialization and basic training window for puppies between 8 and 16 weeks of age. The more you can introduce your puppy to positive experiences in this window the more they will be comfortable with their environment and behaviors throughout their life.
Dog Gone Fun certified trainers offer several positive training options for your canine friends. We believe in building powerful and wonderful relationships between humans and their canine companions.
Group Classes
K-9gility ($156)
This is our signature course, offered in 6-week intervals. It is time to think differently about spending time with your best friend! We've combined traditional canine agility equipment with FUNgility* equipment to create an obstacle course that has all kinds of fun activities for you and your dog to conquer. After you train your dog to safely maneuver the course, participants can workout at any pace.
We don't care if you walk, jog, or run! For those that want a little more of a workout, total body exercises will be designated along the course and between course runs with your dog. Every week new course configurations and exercises will be created. To participate your dog should be able to comply with a sit and stay request as well as be people and dog friendly (on and off leash). We think differently about physical fitness! To emphasize that, we also offer a Corporate K-9gility program focused on fun alternatives for your team members.
As I am sure you know, there are many physical, emotional, and social benefits that come from owning a dog. Dogs make us get up and move, which in turn has a direct link to lowering cholesterol and triglycerides, decreasing blood pressure, reducing stress, keeping us active, and providing companionship.
Dogs do so much for us, earning that "man's best friend" title, we need to remember our part….it is just as important for them, as it is for us, to get the right amount of rest, the right food and proper exercise. Why not create an opportunity to get out and do something new between best friends, which in turn makes your team members more healthy and more productive in the workplace. Call today to discuss your customized program.
Basic 1 Obedience
($135) is a 6-week course and includes a DGF treat training bag and starter goodies. The class includes working on sit, down, stay, loose leash walking, "leave-it", socialization and some added student requests (like maybe potty training tips ☺). The perfect class for Puppies!
Basic 2 Obedience - Offered, Based On Demand
($125) is a 6-week course that adds distractions, distance, and duration to basic manners learned in Basic 1 Obedience. For example, we complete mat/place targeting and continue to work on enhanced loose leash walking techniques. We will also introduce new training concepts focused on patient door manners, reducing jumping and barking, sitting pretty, rolling over, and navigating a basic agility course (on and off leash).
Basic 3 Obedience - Offered, Based on Demand
($150) is a 6-week course that goes out in the community to work on all your basic manners in public locations. To participate in this course every dog must be trainer approved and held seasonally.
Puppy Play (FREE)
We will offer free puppy play after most training sessions. Anyone can attend, you do not have to be registered for a training session to stop by and let you puppy socialize. You will be asked to verify your puppy is current on vaccinations and taking monthly flea and heartworm medicine. You may also want to inform your vet that you will be spending time around other dogs.
Individual Training Options:
One-on-One Dog Training with the trainer and you at Dog Gone Fun!
$65 per hour
$360 for a package of 6, 1-hour sessions
One-on-One Training with the trainer and you at your home!
$90 per hour *
$510 for a package of 6, 1-hour sessions
* Transportation costs may be added for locations in excess of 30 miles
Structured Stay is a program that works with doggie daycare or overnight boarding.  It provides a structured training program that is customized to owner's needs and ultimate goals for their dog (ie. basic manners to socialization).  Pricing varies depending on the amount of time you want your dog to work with the trainer.  Please call (517) 657-4300 or stop in for more information.