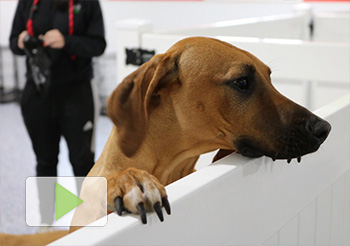 Doggy daycare provides dogs with a fun, safe, and stimulating off-leash environment where they can hang out and play all day while owners work, run errands, or shop.
It is really the best of both worlds!
So there is no need to continue to stare at his picture on your desk at work and worry about how he is doing. He is having a BLAST!
What makes dog daycare FUN?
5,500 square feet of indoor play area
1,800 square feet of outdoor play area
Off-leash (or "naked") play
Play groups specifically designed to maximize each dog's interaction and experience (little dogs, big dogs, dogs that love playing fetch, senior play, puppy play, and more)
Toys and play structures that enhance agility, mental stimulation and physical exercise
The best, trained dog sitters!
Reinforced proper play and good manners so your dog has a blast
Lots of opportunities to rest and recharge
Doggy Daycare Hours & Location
Full day of fun and play: 7am–6:30pm Monday - Friday
Half day: 7am–noon or 1pm–6:30pm Monday - Friday
Drop off for doggy daycare: Please avoid dropping off or picking up during our scheduled nap time between noon and 1 PM
Find us at: 2844 Atrium Dr, Okemos, MI 48864
Daycare Pricing & Packages
| | |
| --- | --- |
| Day Pass | $36 per day |
| Half-Day Pass | $24 per day |
| Occasional Day Out/4 Days* | $136 |
| Social Butterfly/8 Days* | $262 |
| Busy Bee/16 Days* | $496 |
| Frequent Flyer/20 Days* | $585 |
* Packages expire 120 days after purchase!
All daycare packages are non-refundable.
In order to play all dogs must be:
Your dog must be at least 12 weeks of age.
Spayed or neutered, unless participating in the puppy program or puppy day care. (We're not running a dating service!)
Current on vaccinations, which include rabies, distemper/parvo, bordetella, and influenza.
Be on monthly heart worm prevention and have an annual negative fecal test.
Be nice to other dogs and humans!
Food
If your dog weighs 10lbs or under or has a medical need to provide lunches, please review our daycare and puppy program lunch plan.
How does this work?
Complete and submit the Dog and Owner Profile and Owner Agreement forms, which gives us an initial peek at your dog's behavior and any potential issues that we may want to discuss with you in greater detail.
We will contact you.
Set up a reservation for an evaluation day. Here, the staff will spend some time with your dog before introducing him to one or two other dogs. If positive behavior is observed, we'll continue introducing him to more dogs before taking him into the playroom. Depending on your dog's personality, this process can take longer with some dogs than others. We ask that dogs stay a minimum of 5 hours on this day. (Normal doggy daycare rates apply for this visit.) You must provide proof of current vaccines and fecal test from your veterinarian to us prior to your evaluation day. You can submit the forms on our website.